The PT Boat Forum
http://www.ptboatforum.com/cgi-bin/MB2/netboard.cgi

» Forum Category: PT Boats of WWII
http://www.ptboatforum.com/cgi-bin/MB2/netboard.cgi?cid=101&fct=showf

» Forum Name: PT Boats - General
http://www.ptboatforum.com/cgi-bin/MB2/netboard.cgi?fct=gotoforum&cid=101&fid=102

» Topic: modeling chain advice?
http://www.ptboatforum.com/cgi-bin/MB2/netboardr.cgi?cid=101&fid=102&tid=3270


---



Looking for small chain for 1/35 detail. I'm not sure what to order. What I want it for is the chain on the combustion chamber of the torpedotubes and the chain for the anchor. Any ideas?





Posted By: Bob Butler | Posted on: Jul 17, 2013 - 8:41pm
Total Posts: 192 | Joined: Mar 23, 2013 - 11:58am


---
Hi Bob,
There some very small chain out there but even the smallest looked a little heavy to me.

What I picked up for my boat is Ships Chain NSA 350085 from North Star Models. This is photo etch so as printed it's 2 dimensional. However with some slight twisting you can easily achieve a nice 3 dimensional appearance. It's also amazingly small. You can get it for about $10 from Free Time Hobbies.

Dave

David Waples

Posted By: David Waples | Posted on: Jul 17, 2013 - 9:04pm
Total Posts: 1610 | Joined: Jan 2, 2007 - 9:55pm


---
Thanks Dave. I was looking at some of the 1/700 anchor chain that is photo each. The problem I have I'm 200 miles away from any hobby shop that would carry anything I could look at.



Posted By: Bob Butler | Posted on: Jul 17, 2013 - 9:40pm
Total Posts: 192 | Joined: Mar 23, 2013 - 11:58am


---
Hi there.

Some model railroad shops have really fine, actually ultra-fine chain.

Cheers

"Give me a fast boat for we want to get out of harm's way too."

Posted By: PeterTareBuilder2 | Posted on: Jul 17, 2013 - 10:08pm
Total Posts: 204 | Joined: Dec 8, 2012 - 6:03pm


---
Bob;
Do what I do, do you have a Michaels Arts and Craft or A.C. Moore arts and crafts nearby? You are in NOLA right?
Go to their jewelry section and ick out the chain you need, I got a roll about 2 years ago, and I am sure it will last me trough every project I do, for only about $4.
Take care,
TED



Posted By: TED WALTHER | Posted on: Jul 18, 2013 - 5:11am
Total Posts: 2893 | Joined: Oct 16, 2006 - 7:42am


---
I'm in Susanville CA, a small town about 100 miles N/W of Reno NV. There are plenty of jewelry stores there. The nearest decent hobbie shops are in Sacramento. I've heard a new one has opened up in Chico but I havn't been there yet.



Posted By: Bob Butler | Posted on: Jul 18, 2013 - 8:38am
Total Posts: 192 | Joined: Mar 23, 2013 - 11:58am


---
@Bob: Maybe in Redding?


Will

Posted By: Will Day | Posted on: Jul 18, 2013 - 1:08pm
Total Posts: 1904 | Joined: Oct 8, 2006 - 4:19pm


---
Bob, you should be able to shop on line for these items, just let me know and I will send you the money for the chain or what ever you need.



Posted By: Frank Andruss | Posted on: Jul 18, 2013 - 1:43pm
Total Posts: 3964 | Joined: Feb 9, 2007 - 11:41am


---

Frank, I need about an inch and a half for PT 302, the other is for my PT 109 and future projects. So don't worry I'll handle it. I just went to the internet and took a SWAG (Scientific, Wild Ass Guess) to order some different sizes. There's a jewelry store in town here that has some but they're gold plated. I can always paint that.
David, North Star Hobbies is going out of bussiness. If you want any of that Ships Chain NSA 350085 there's some on EBay and European hobbyshops.
Thank's everyone, I think I'm covered.





Posted By: Bob Butler | Posted on: Jul 18, 2013 - 3:12pm
Total Posts: 192 | Joined: Mar 23, 2013 - 11:58am


---
Hi Bob
Northstar Models is not going out of business. You're referring to another company in Canada. Here's what I was referring to.

Okay, here's the prototype.




Here's the model part next to the Northstar Models product. I've not found a chain small enough yet that doesn't look too heavy. What I like about this photoetch chain is that it has a very light weight appearance as does the prototype. But even this photoetch chain is larger than the prototype but I've yet to find anything better.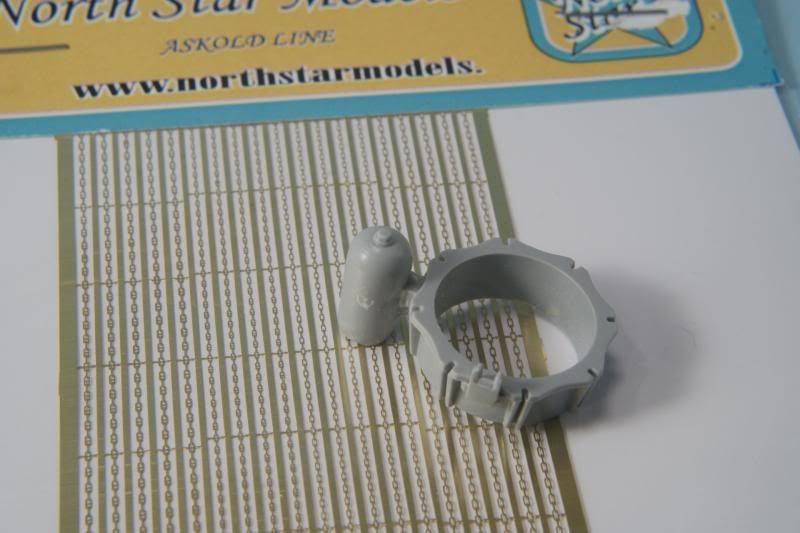 I hope this is helpful. This product is available at Freetime Hobbies and they ship world wide. You can also buy directly from Northstar Models.
Dave

David Waples

Posted By: David Waples | Posted on: Jul 18, 2013 - 6:59pm
Total Posts: 1610 | Joined: Jan 2, 2007 - 9:55pm


---
Looking good Dave, that's what the internet said and it was in Canada.
I didn't read your post far enough when it came to order, Sorry and Thanks again.



Posted By: Bob Butler | Posted on: Jul 18, 2013 - 7:29pm
Total Posts: 192 | Joined: Mar 23, 2013 - 11:58am


---
Walthers Model Railroads carry all kinds of chain (but not anchor chain obviously) go to www.walthers.com and enter 'chain' in the search function you will get all kinds of sizes.



Posted By: Iowabrit | Posted on: Jul 19, 2013 - 4:14pm
Total Posts: | Joined: Unregistered


---
Thanks I'll put that in the memory banks...



Posted By: Bob Butler | Posted on: Jul 19, 2013 - 10:26pm
Total Posts: 192 | Joined: Mar 23, 2013 - 11:58am


---